In the weeks leading up to the Super Bowl, Twin Cities Black Journalists held two events that centered on the popular sports event.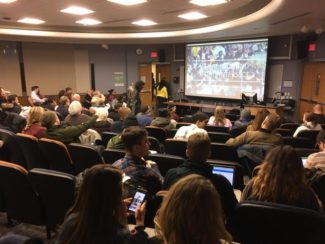 On Jan. 23, Twin Cities Black Journalists, along with partners the Minnesota chapter of the Society of Professional Journalists and the Hubbard School of Journalism and Mass Communication at the University of Minnesota, hosted a panel on "Where Race and Sports Intersect." We had a great turnout with about 80 people in attendance. The panel focused on how race, culture and sports have intersected and how it should be covered by the news media. Our panelists consisted of Carl Eller, retired Vikings defensive end and one of the illustrious Purple People Eaters; Rebekkah Brunson, Lynx forward; and Ray Richardson, KMOJ radio personality and former sportswriter for the Pioneer Press. Our other panelists LaTroy Hawkins and Larry Fitzgerald Sr. were not able to make it. The panel was moderated by Rana L. Cash, NFL editor at the Star Tribune.

The panelists were very frank and open with their answers. One of the highlights was Eller sharing how Vikings player were some of the first to start the tradition of players standing at attention for the national anthem. Brunson spoke about differences between the support of players' freedom of expression in professional football versus in professional basketball. Richardson spoke on the different expectations for black players as opposed to white players to comment and participate in demonstrations.  Video of the panel can be viewed here. The Star Tribune wrote a story on the event as well as The Mankato Free Press. Thank you to our partners and our panelists for a great event!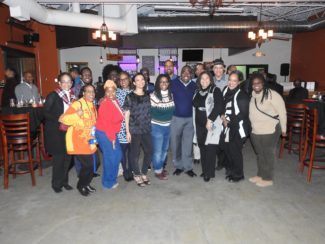 On Feb. 1, the chapter hosted its Media Soul Bowl to welcome sports journalists of color to the Twin Cities. The party had about 70 attendees who enjoyed specialty cocktails at black-owned distillery Du Nord Craft Spirits, delicious soul food provided by black-owned Klassics Katering (Gerard Klass/Soul Bowl) and music by Ray Richardson. With the sponsorship of Toyota, Dijon McCain, a junior at the University of Minnesota, was given a $3,000 scholarship to help with his education and current internship with BET. Thank you to our sponsor Toyota, our vendors and all who braved the cold to party with us!