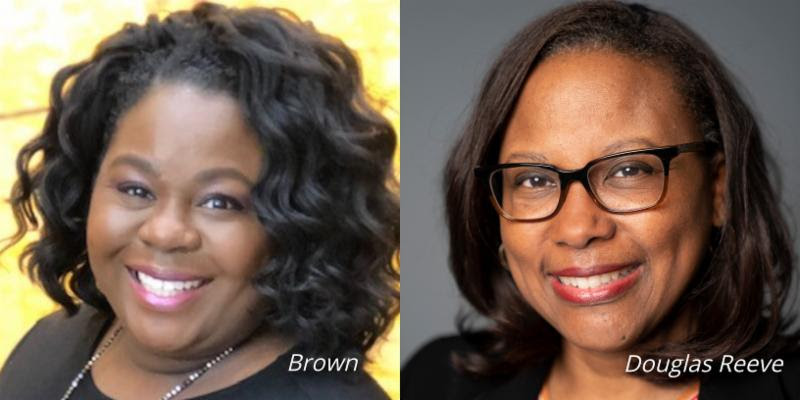 Congrats go out to our TCBJ president Maria Reeve, who was selected as a program chair for the NABJ convention for the second year in a row! We can't wait to see what programming is in store at the conference. Read the NABJ news release below.
WASHINGTON, D.C. (April 1, 2019) – National Association of Black Journalists (NABJ) President Sarah Glover today announced the addition of Bernadette Brown and Maria Douglas Reeve to the #NABJ19 Convention and Career Fair planning and leadership team. Both Brown and Reeve will serve as program chairs.

"I am excited about the breadth of experience and dedication that Bernadette and Maria will bring to this year's convention," said President Glover. "The caliber of programming NABJ conventions offer is recognized nationally and we can't wait for our members to see what we have in store this year!"

Brown is an expert in news operations, programming and development and serves as manager for CNN Newsource Newsgathering. She is an active member of NABJ, holding several positions including serving as a regional director and most recently executive producer during the 2018 convention. Brown received her Bachelor of Fine Arts in Radio/Television from Sam Houston State University and is a graduate of the Frank N. Magid Management Institute and The Poynter Institute Leadership Academy. She has also served as a proud member of the National Association of Multi-Ethnicity in Communications and is a graduate of the organization's leadership academy.

"I am excited to co-chair this year's convention alongside Maria," Brown said. "The institution of journalism is critically important in this country and this annual convention serves as a meeting of the minds where journalists of color can share resources, learn new skills and foster important and life-long relationships. I'm proud to be a part of the team presenting one of the most exciting and well-attended gatherings. The entire convention committee is dedicated to its success."

Douglas Reeve is the assistant managing editor for news at the Star Tribune in Minneapolis and is currently president of the Twin Cities Black Journalists. She played an integral role in the local chapter's planning of the 2015 NABJ Convention and Career Fair in Minneapolis. She has been a member of NABJ for more than 20 years. She earned her master's degree in public affairs journalism at the University of Maryland and a bachelor's degree in English from Davidson College. Reeve is also a former national board member of the Society of Professional Journalists (SPJ). At SPJ, she co-chaired the program planning committee for that organization's 1996 National Convention. She is a proud member of Delta Sigma Theta Sorority, Inc.

"I am absolutely thrilled to again be tapped to co-chair the Program Committee for NABJ's National Convention," said Douglas Reeve. "I am excited to work with Bernadette to bring our members the sharpest, most relevant, cutting-edge training that reflects the convention's theme (to be revealed this week). We look forward to welcoming everyone to sunny South Florida!"

To register or for more information about #NABJ19, visit www.nabjconvention.com.

-30-

Media Contact:
Kanya Stewart
Director of Communications
Press@NABJ.org